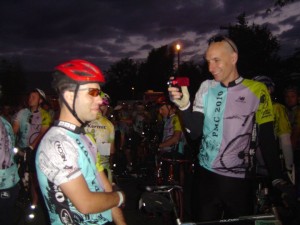 On August 4th, at 5:00am, 5500 cyclists and hundreds of volunteers will flood the Sturbridge Host Hotel parking lot and lobby to kick off the 2012 Pan- Massachusetts Challenge. For those not familiar with the PMC, it's the most successful athletic fundraiser in the country, benefiting Dana-Farber Cancer Institute through The Jimmy Fund. It accounts for half of The Jimmy Fund's annual revenue ($35 million last year). The event itself is a 2-day, 192 mile bicycle ride from Sturbridge to Provincetown.
On August 5th, I will complete my second Pan-Mass Challenge in honor of Beth O'Brien, who is battling ovarian cancer for the 3rd time. Her daughter, Kelly O'Brien, my fiancé, is volunteering with the PMC Medical Team.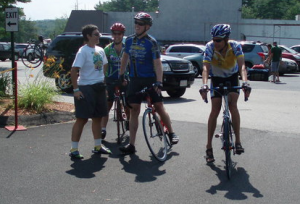 I became involved with the PMC in 2010 through my close friend Ornoth Liscomb. Orny was training for his 10th Pan-Mass that year. To mark the achievement, he was starting a day early at the New York border, and riding 93 rugged miles to the Sturbridge start. This would make it a "true Pan-Mass," he reasoned. Fellow PMC'er Paul Demers and I decided to go with him on his Day 0 ride, and I registered to volunteer for breakfast duty in Sturbridge the following morning. I thought this would be a good way to see what the event was all about, and it was. During the opening ceremonies, I promised myself that I would ride in 2011.
If there's one particular image in my mind that captures what the PMC is all about, it came to me on August 7th 2011 (Day 2), at around 8am. A storm had blown in overnight. Having slept in a tent, I was soaked to the bone before getting on my bike at 4:50am to cross the Bourne Bridge. Rain continued to fall as daylight broke. The course was no longer lined with cheering supporters. Somewhere between Eastham and Wellfleet, the second long day in the saddle started to wear on me and I began to feel a little sorry for myself. As I approached a hill, my heart sank. My legs hurt, I was cold, hungry, tired, filthy..
About 1/3 of the way up the hill, I noticed another rider ahead of me. He was in his 40's, riding a tandem bicycle by himself. A picture of a child's face was on the back of his jersey. The child must have been his son. He was riding in his memory. Alone on this stretch of road, I watched him labor to pull the heavy bike up the hill. I'd never felt so humbled, so full of purpose, so determined to put myself to good use and finish this ride, to earn the gifts my sponsors had given. As I completed my first PMC later that morning, an unshakable sense of peace took hold of me. This was the best thing I had done in my entire life.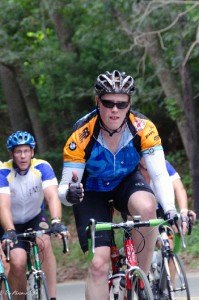 I'm hopeful that, in our lifetime, we will be able to prevent or cure all types of cancer. But that isn't going to happen without institutions like Dana-Farber, which is leading the world in cancer research and treatment. And Dana-Farber couldn't exist as it does today without the PMC. Kelly and I have set a fundraising goal of $5000 for 2012, and we need your help to reach it.
So here's the deal: I'm promising to all who donate that if we meet our fundraising goal before the PMC on August 4th, I will start at the New York border on August 3rd and ride those 93 rugged miles again. That's 3 days, nearly 300 miles, 24 hours of saddle time, about 15 peanut butter sandwiches, 9 bananas, 30 gummy worms, 6 gallons of Gatorade and water, at least a dozen hugs, a few tears, and 1 really sore ass.
I'm asking for your support. 100% of your donation goes directly to Dana-Farber. You can sponsor Kelly and I online via our PMC Profile page:
Lastly, this video by Newburyport Pedicab recaps the 2008 PMC, and illustrates the importance of this event far better than I could. Please take a moment to watch, and thank you for reading.