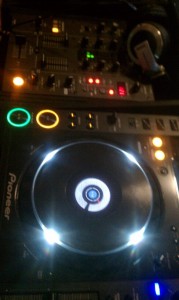 Lately, I've been beat-mixing again, prompted by a very irresponsible purchase made around Thanksgiving (see right). I can't say that I didn't miss doing this for the last few years.  I've also really taken a liking to Drum & Bass music, and have started to build an almost-respectable catalog of it as well.  It's a little more interesting to beat-mix than Progressive House (shorter tracks, wider variety, ..), and hey, who can argue with 120hz hitting you in the chest at 140db?
Tonight I've recorded two 30 minute continuous DJ mixes for you to share and enjoy.  I would like to start playing out again at some point soon, so if you or someone you know has connections at any local venues, please let me know!
Enough about that, on with the ch00ns..
Progressive House Mix (2011-02-02) by Jay Dolan
Bart Van Wissen – Unforeseen (Madoka Mix)
Graffik – Lesser Man
Flash Brothers – Captured (Josh Collins Mix)
V-Sag – Plausibility
Andrew K & Simuck – Mar de Oro (V-Sag Mix)
Drum & Bass Mix (2011-02-02) by Jay Dolan
Komatic – Silently She Cries
Command Strange – You Can't Touch This
Kabuki feat. Jeru – Watch Your Step
Laroque – Millionaires
Komatic & Technicolor – Daydreamer
LM1 – Positiva
Atmospherix – Memories
Unknown – Best I Ever Had