You want to try tandem road biking without spending $3,000 on a Santana or $4,000 on a Co-Motion. Not that those products aren't worth it, but that's a big chunk of change to try something you or your riding companion might not like. You've seen the Giordano Viaggio on Amazon for as little as $500 shipped, but it has to be too good to be true.. What are you really getting for 1/6th the price of the real tandems? Is it the Huffy of tandem bikes?
Last year, my wife and I were in this exact predicament: I'm an experienced cyclist, she was a newbie. But for very personal reasons, she committed to riding a lot of miles this year. A tandem seemed like a great way to close the gap in our experience levels and enjoy the sport together. But good luck getting your feet wet for $1000. Enter the Giordano Viaggio from Kent Bicycles..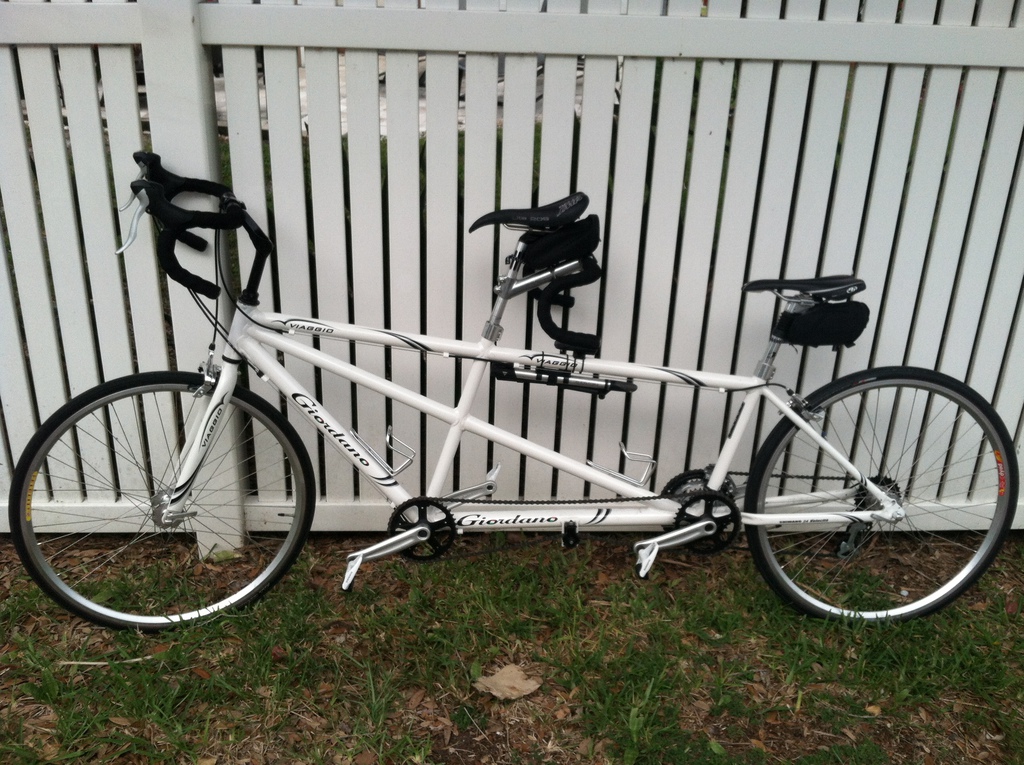 We were fortunate enough to find ours on craigslist, brand new, listed for $300. A woman had purchased it for she and her tween daughter to ride, but the daughter wasn't feeling it. I figured, for that price, we couldn't go wrong, so we shot over to the woman's house to take it for a test ride. Now, when I'm not on the Viaggio, I ride a 2005 Felt F4C with Ultegra wheels and Dura Ace components — so I know what a proper road bike feels and rides like. Not to my surprise, my introductory ride on the Viaggio felt ..pretty awful. Out of the box, this bike is very heavy and slow, the saddles are modeled from some medieval torture machine, and the brakes feel like they're made of wood.
Whatever, for a $280 initial investment, we decided to see just what we could get out of this thing..
As it turns out, for a total investment of about $1100 ($1300 if you pay MSRP for the bike), and a couple weekends of playing mechanic, you can get a lot. A word of warning, much of what I list here will require you to have special bicycle tools like cone wrenches, a freewheel socket, a chain whip, etc. And, as an entry-level tandem, the Viaggio will require mechanical attention a little more often than a high-end bike. Park Tools makes a great starter kit that I recommend picking up if you purchase this bike.
Here's our list of upgrades and must-do's to make this bike a competent road tandem for couples who want to log a few thousand miles per season:
Assembly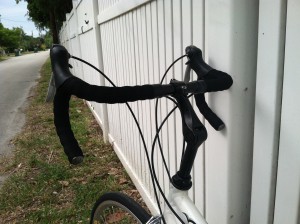 Do not trust any of the bearing assemblies in this bike from the factory. They are often under-lubricated and over-tightened. I would recommend re-packing all bearings yourself with a high-grade grease. At the very least, pop the chain off and make sure the bottom brackets rotate smoothly. Cost: $4
Wheel manufacturing debris. The wheels on this bike are terrible, but I'll get to that later on. What you need to know before you even think of taking this bike for a ride is that the stock wheels come full of metal shavings from where the valve stem holes were drilled. Remove the tires and tubes, blow out the wheels and reinstall. Failure to do this will result in numerous flats — be proactive and save yourself the headache. Cost: $0
Brake pads. The stock brake pads on this bike are a joke. Actually, that's not accurate. There's nothing funny about it. Replace the stock pads with something significantly better if you want to be able to stop. This is a safety issue, so I'm filing it under Assembly and not Performance. Cost: $12
Ergonomics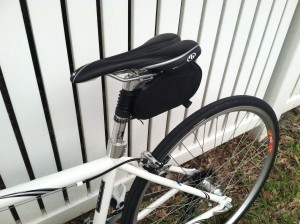 Performance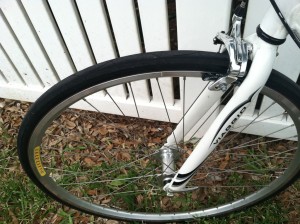 And there you have it. These are the modifications and upgrades we've made to our Viaggio, which we just logged 75 miles on this weekend. Overall, we are very satisfied with our budget tandem. It's comfortable, and while we're not keeping up with the local Cat 3 crowd, we're able to complete long rides in reasonable times with minimal mechanical failures. What's more important, we're enjoying cycling together without breaking the bank.
Addendum
I wanted to acknowledge another rider's review of the Viaggio that I found helpful when spec'ing out some of our upgrades. For a second opinion, please check out John McCutcheon's review Great Budget Tandem.
Update, October 2013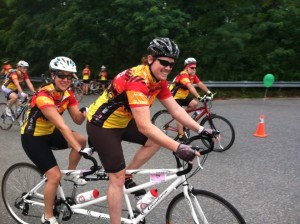 Kelly and I completed the 2013 Pan Mass Challenge — a 2-day, 200 mile ride across the state of Massachusetts — on our Viaggio back in August. We had a fantastic weekend, with no mechanical issues, and averaged a respectable 17mph for the duration of the ride: sufficient proof that this bike can be made into a serious road platform with a little effort and incremental upgrades along the way. Here are some further changes we made leading up to the PMC:
Chains. When our factory chains were up for replacement, upgrading to the lighter weight and higher quality Shimano XT HG91 series proved well worth it. The bike shifted smoother and pedaled a little easier. The synch chain can be made by joining two of your standard 110 link chains, so you'll need 3 chains and a chain tool in order to complete the job. Cost: $90
Cables. It turns out that the rear derailluer cable on the Viaggio is actually a brake cable; meaning it is heavier than it has to be. Its housing is of relatively low quality, too, meaning that you'll likely adjust the derailluer all day long and still not get consistent shifting performance from it — especially if the stock cable has seen a few rainy days. We replaced the cable with a proper coated shifter cable and our Viaggio now shifts like a dream. Cost: $40.
Thudbusters from Cane Creek. Kelly's $13 sprung seat post helped take the bite off of short rides, but we were both still uncomfortable on any ride over 30 miles. We decided to "spring" for the top-of-the-line Thudbuster posts from Cane Creek, which finally gave us the comfort and stamina to tackle 60+ mile rides. As the stoker, she has a long-travel 27.2mm model, and I'm on the short-travel 25.4mm version up front.Cost: $320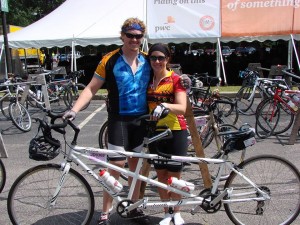 Our total investment in our Giordano Viaggio from Kent Bicycles now stands around $2000 — 4 times MSRP, yet still cheaper than a Santana or Co-Motion! Unreal. As an upgrade-ready platform, the Viaggio gave us an opportunity to ease into the sport, ramping up our investment as our experience and love for tandem riding grew. Our bike is a complete joy to ride, it's been reliable, and easy to repair. It passed our grueling PMC test with flying colors. With over 2000 miles logged on ours, I wholeheartedly recommend this bike to other aspiring tandem teams.
Update, May 2014
With our Viaggio still rolling strong, Kelly and I are gearing up for another Pan-Massachusetts Challenge ride to raise money for cancer research and treatment at the Dana-Farber Cancer Institute. And due to the influx of comments this post has received, I decided to put together an Amazon Wish List containing nearly all the parts needed to transform your Viaggio into an asphalt-shredding steed:
Remember to sort the list by priority, and add a healthy can or two of elbow grease. Lastly, while the Handspun wheels are available through a handful of vendors on Amazon, you really can't beat the price and service over at Tree Fort Bikes. If you're going all-in on the wheelset, let them sort you out, and mention this page when you place your order!